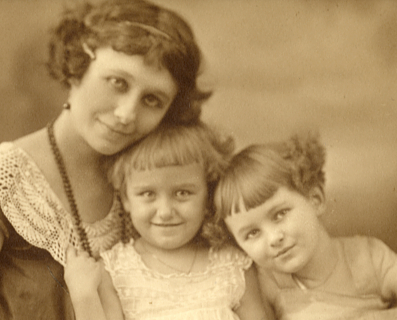 Left to right: Stella Anna DeSha Thomas, Barbara Mae and Harriet Joan Thomas, about 1923

I have named the gallery for my grandmother, Stella Anna deSha Thomas whom I love very much and will always remember.

Stella was born September 9, 1891 on her father's part of what once had been the Franklin DeSha Land Grant of 1855, on the southwestern side of Lake Alto in Alachua County Florida near Waldo. Shortly thereafter the family moved to a farm near Hatchett Creek (Fairbanks) and some time later to a farm south of Waldo. After finishing high school, Stella and her older sister Mae continued to study Trigonometry until they graduated in 1910. In 1914 Stella married Percy Leon Thomas and moved to Jacksonville, Florida. Percy became a lawyer and together they raised their family in two of Jacksonville's oldest residential areas: Springfield and Riverside.

I grew up in Jacksonville as my mother before me and my Grandmother was always there to encourage and help me. She slipped away from all too soon but her spirit is with me still.

I think of her often as I work on my Florida family history and sometimes I can just see her as a young girl walking barefoot, shoes in hand, in the hot sun along railroad tracks on her way home from school.

In my own artwork and writing I refer to her as "Stella by Starlight". Stella means "star" in Latin.