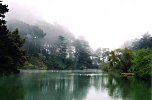 Greenery
San Francisco Golden Gate Park, March 2003
It was a quintessentially foggy bay city morning -- a magical hour of muted colours and sounds. I was happy with how the film was able to capture the full spectrum of greens.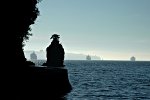 Imitation of Life
Vancouver Stanley Park, October 2004
Siwash Rock marks the 6 km mark on the route around the Stanley Park peninsula. The silhouettes of the ships appeared one by one as I rounded the bend in the path.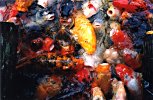 Carp Frenzy!
Taiwan, July 1998
Hungry fish ready to sink their neighbour in anticipation of a breadcrumb. Too bad I didn't have any food… just my shadow was enough to send them in a frenzied battle for position.



Eiffel Foot
Eiffel Tower, Paris, October 2003
First day in Paris, I was locked out of the hostel until the 5 p.m. check in time. I was able to see the tip of the Eiffel tower over the buildings and wandered my way to the famous landmark on foot. This photo is taken from the first level of the tower, looking down at the base. I was amazed to see that detail in the iron work.