Percy Leon Thomas, Sr. (1886-1959)
My Grandfather, Percy Leon Thomas, Sr., was the eldest of 7 children born to Jesse and Mary Ella (Murrhee) Thomas. The Thomas family, originally from South Carolina, migrated to Duval County (about 1824)and then Clay County. Their farm was where Camp Blanding now is in Clay County, FL.

Percy taught school briefly in Starke. In 1910 he was appointed Deputy Tax Collector for the Internal Revenue and moved to Jacksonville. He began working in the Federal Building (Old Post Office Building) at the northeast corner of Hogan and Forsyth in Jacksonville. While in this position he studied law via mail courses from the University of Chicago and "read" law in the office of Mr. Clay Bullard in his offices located in the Graham Building (originally the Heard National Bank Building or Land Titles Building, 110 West Forsyth Street, now Water Street (photo by Jack Spotswood, 1936, FSPA). In about 1922 PLT passed the bar exams and began his own practice with an office in the Graham Building as well. The Graham Building has long since been demolished.

Throughout the time the family lived at DancyT, Percy worked as an Attorney though he preferred to be called "Counsellor". During the Depression period, many of his clients could not afford to pay a lawyer in cash so they paid him in trade. My Mother remembers the attic at DancyT where his "payments in trade" were stored. Many years later and after his death in 1959, my Grandmother offered me my choice of old books from a trunk -- these books had been such a "trade". I have always considered this my Grandfather's legacy or gift to me, his oldest Granddaughter. And so I began reading Plato, Shakespeare, James, Poe, and many more at the age of 12.

From a very young age, Percy Thomas was very active in community work. He was initiated into and attained the Sublime Degree of Master Mason in the Bradford (County) Lodge No. 35 at Starke, Florida and was one of the four originators and a charter member of the Albert J. Russell Lodge 126, Free and Accepted Masons in Jacksonville where he served as an officer for 18 years.

He was a longtime member and past Great Sachem of the Improved Order of Redmen. He served as a member of the Duval County School Board of Education for a number of years during which time he was instrumental in the building of the Oceanway School. As an active member of the Main Street Baptist Church throughout his life, he served variously as Sunday School Superintendant, Training Union leader, Deacon and was a member of many special committees throughout this time. He was an early member of the Board of Trustees and then for many years, Vice-President of the Board of Trustees for the (Jacksonville) Baptist Home for Children. The idea for a Home for Children originated by members of Main Street Baptist Church who were instrumental in it's founding in the 1920's and 1930's in Jacksonville. I have a section on the early history of the Baptist Home for Children and in it have included early reports, histories and pr materials used in connection with the home.

I remember my Grandfather as big man who would sit down on the back porch steps to play with me after work when I was very small and we lived with my Grandparents on College Street in Riverside, another grand neighborhood in Jacksonville (which slowly but surely is being taken over by the Health Care Industry or so it looks). Grandpoppy (as I called him) always had jokes and riddles and funny things to say which we now refer to as the "Thomas sense of humor". Once I remember wind-up false teeth clacking away as they came at me across the dining room table at my Grandparent's house. At the time I could barely see up and over the table so this was somewhat alarming. And he had a little thumb-box he would show us -- he would tell us some tragic story of an accident then show us the person's thumb. Later still he would show us the hole in the small box bottom where he had inserted his finger to trick us. He loved Country Music and when he was older would sit on the piano bench next to the old radio to listen to country music after dinner at night. Toothpick in mouth. My brothers and I would inherit his old cigar boxes for school supplies each year and I would put all the many colorful paper cigar rings on all my fingers and think I was just something. And of course I was.

My Mother remembers how at DancyT at bedtime she would be with Barbara in the front bedroom and fall asleep to the aroma of his pipe and the soft voices of her parents talking in the middle bedroom; that this comforted her. She remembers how inspite of his busy schedule, he would drive the family to the beach (early on via the Main Street Ferry at the foot of Main Street) and to visit relatives all over north Florida. When my Mother got her first pair of glasses at age 10 and told him so happily that she could now see the trees, he cried. He was an honorable, intelligent and well respected man. Many people in need and especially many children have benefitted by the work few people knew that he did. He was humble. I wish I had known him a lot better than I did. Then, again, after reading his papers and letters, and talking with my Mom about him over the past few years, I think I do. Percy Leon Thomas, Sr. is at rest in the Riverside Memorial Park Cemetery in Jacksonville, next to his wife, Stella and across from his sister, Jessie Thomas Morgan.

Stella Anna DeSha Thomas
(1891-1986)

My Grandmother, was the 3rd child and second daughter born to Joseph Fenigan and Harriet Mariah Beasley DeSha. She was born on the farmland, which her father inherited from his father, Franklin DeSha, who had been given a Land Grant in 1855. The Grant land, which Cousin Bettee DeSha in her book East Side of Eden, always referred to as "the Plantation", but in reality was a simple farm on lots of land which bordered the SE perimeter of Lake Alto in Alachua County, Florida. Jo DeSha sold this land to his brother, George Madison and moved the family to a farm on Hatchett Creek near Fairfield, Florida. This farm was always referred to as "Hatchett Creek" because the creek was so near. When my Grandmother was about 14 the family moved again, this time to a farm just south of Waldo, Florida. It was while walking along the railroad tracks from this farm to high school in Waldo one hot morning that she first met Percy Thomas.

Stella remained in high school an extra year to learn trigonometry. She then taught school for one year in Orange Heights (originally Saluda) near the Baptist Church that her Grandfather Franklin once attended when he farmed by Lake Alto. She married Percy Leon Thomas in the Waldo Baptist Church in 1914. Apparently both in Waldo and briefly in Jacksonville she was a Pythian Sister, something I learned only recently. She was an active member of Main Street Baptist Church where she taught Sunday School and always involved in the schools her children attended, at one point being President of the 10th and Market PTA.

She managed domestic affairs which included boarders who from time to time rented the front bedroom at 2107/2117 Dancy Terrace. Yes, that's a family of 5 plus a boarder in the bungalow at DancyT. My Mother, Joan remembers that her Mother was an excellent seamstress and would make and mend clothes to help supplement the family income during the Depression Years. She made all the kids' costumes for many school or kindergarten show. When Barbara Thomas was only 4 and too young for Mrs. Bagaley's Kindergarten, she was permitted to dance the Looby-Loo skit because her mother, Stella Thomas had made the childrens' costumes.

She was an especially wonderful Grandmother to me growing up and if there was something special that my family couldn't afford, she would try and get it for me. In going through some of her kept things during the past few years I came upon a white envelope full of newspaper clippings of every poem I had ever had published in the Jacksonville Journal during my high school years. On the envelope was written: Beth's writing. I never realized how proud she had been of me. In her honor, several years ago I created the Stella DeSha Thomas Gallery of Art on the learnyeats.com website. In this way I felt I could help other artists in her name.

Stella and Percy Thomas, Sr. are buried in the Riverside Memorial Park Cemetery in Jacksonville. My Aunt Jessie Thomas Morgan, Percy's younger sister, is nearby.

Harriet Joan (Jo-Ann) Thomas (Learn)

This, of course is my Mom who was named Jo for her Grandfather Joseph Fenigan DeSha and -An for her Great Grandmother, Eliza Anna Parrish DeSha. Mom or Joan pronounced Jo-An was born in the house on what was then 28th Street and across the creek from the Evergreen Cemetery. The house was set back from, then turned to face Main Street.

Joan read avidly, studied piano and sang "like a little burd" or so one of her teachers told her. She was active in Girls' Auxiliary (a church club for young girls in the Baptist Church), and BYPU or Baptist Young People's Union which also served as a means of fellowship for young people at the Main Street Baptist Church. Following graduation from Jackson High School, Joan worked as a Cadet or School Administrative Assistant at Mattie V. Rutherford Elementary School at 5th and Hubbard.

Upon graduation from FLASTACOWO (Florida State College for Women now FSU) she obtained her Teacher's License and taught first 4th Grade at MattieV in the 1940s and later 2nd Grade at Ruth N. Upson School in Murray Hill. She was very creative and enjoyed organizing and producing shows with the kids at school such as Sleeping Beauty. She was married to Glennis Eugene Learn originally from Freeland, Pa, in 1944 at the Main Street Baptist Church. For years she was a member of the Jacksonville Story-Tellers League and was later active in the Murray Hill Baptist Church.

She told her own 3 children and all her school children stories she called "Jack and Judy Stories". These stories were supposedly all about the adventures of a little boy and girl (brother and sister) growing up in Springfield and visiting their Grandparents in Waldo. In reality the "little boy" called Jack was sister Barbara who was quite tom-boyish and athletic. The part of Judy was played by Joan herself, a strong willed but less tom-boyish. She and I are at work on a collection of these stories which we hope to finish in the not too distant future.

Barbara Mae Thomas Doerffer(1919 - 1975)

Mother's slightly younger sister, my Aunt Barbara, was born in 1919, in the same house set back from Main at 28th Street by the Evergreen Cemetery. Barbara was a tomboy who loved to do gynmastics and to dance. When she was tiny she would be set atop the table after dinner to entertain the family with her gymnastics. "Jack" in the "Jack and Judy Stories" was really Barbara. When my Joan was Cinderella's wicked step-sister in Mrs. Bagaley's Kindergarten pageant, Barbara was let participate in the Looby Loo dance because their mother, Stella, made the costumes. Barbara was active in athletics all through school and studied dance with Miss Dishman. She also taught dance when she could and finally went north to dance with the Humphrey Weidman Company. In 1948 she married Alex Doerffer, originally from Budapest, Hungary, in the Main Street Baptist Church in Springfield and remained in NYC living at 115 West 11th Street.. She continued her post graduate education and taught Modern Dance for many years at the Jersey State Teachers' College in Bayonne.

Barbara would send her promising dancers to Charles Weidman, who in his later years had a studio on 29th street where he held weekly performances of his students. When I came to live in NYC for a time, Barbara took me to one of these performances and introduced me to Charles Weidman. That will always be one of the magic moments in my life. She and Charles remained friends until his death in the summer of 1975 ironically months before her own the following Christmas. There is a dance studio and a scholarship in her name at the college. She was my role-model growing up. As a child I thought one day I will also go exciting places and write just like she travelled and danced. I was with her at the end. It broke my heart.

I will always remember how exciting it was to wait at the Train Terminal for Aunt Barbara and Uncle Alex to arrive at Christmas. When they came south in summers she would give me a home perm. It took hours and it stunk but Uncle Alex always said you had to suffer to be beautiful. I wasn't sure I wanted to be that beautiful. Alex had many relatives in Europe and so they travelled a lot. Barbara always remembered us with little souvinirs and lots of post cards. Sometimes she would bring unclaimed jewelry from the gym. She once brought me a pearl ring. I had always wanted a pearl ring and cherished it until the pearl fell out somewhere in NYC. After that I always said the ring brought me to NYC. That it had had that mission. Kind of like the Belltown Cottages sent me to DancyT. I read Merleau-Ponte a lot. Barbara and Alex are buried in the Riverside Memorial Park Cemetery in Jacksonville, not far from her parents and her Aunt Jessie.

Percy Leon Thomas, Jr.

Uncle Leon was born on Halloween. He was called Percy when smaller then he changed to Leon.

Percy/Leon was born while the family lived in DancyT. He attended elementary school at 10th and market Elementary School where one year he was taught by his Aunt Jessie Thomas Morgan, Grandfather's younger sister and the baby of the Thomas Family. Jessie had come to live with the Thomas family at DancyT and remained a part of the household for many years after they migrated to Avondale/Riverside. Leon also attended Kirby Smith Junior High but transferred to Robert E. Lee High School in Avondale when the family moved. After college at the University of Florida, he went into the Airforce and married Joyce Moore of Starke, Florida. My brothers and I always looked forward to visits from Aunt Joyce and Uncle Leon because they were so interesting and funny. True to the Thomas sense of humor, Leon always told jokes and did magic tricks. He was a Minister and Counsellor for many years before his retirement.

Jessie Thomas (Morgan) (1899 - 1994)

Nicknamed Jessie "Pet" by the family, Aunt Jessie was Percy Leon Thomas' youngest sister and the baby of the family. Her parents, Mary Ella Murrhee and Jesse Thomas farmed in Clay County, where Camp Blanding now is. Named for her father, Jesse who may have been named for his Wilson Grandfather -- his mother was Louisa Wilson.

Jessie was 12 years old when her mother, Mary Ella Murrhee Thomas died but her older brothers were protective. She was a school teacher for over 50 years prior to her retirement and loved by her students. She divorced early and lived with Percy and Stella Thomas for many years. She was the last active Thomas family member in Main Street Baptist Church before it closed its doors in the 1980s. Following her retirement, she often travelled, at least once to the Holy Land, probably on a Church organized tour. She, like her niece/my Mother, Joan, was a member of the Jacksonville Storytellers for many years. She was the last member of her generation of Thomas family to pass away but my daughter had the opportunity to get to know her before she died in 1994. We visit her grave every year when we come down to visit all our family in the Riverside Memorial Park Cemetery, Jacksonville.




The Thomas Family on a trip to Florida State College for Women in Tallahassee, Florida about 1936: L2R are Barbara, Leon, Percy Leon, Stella and Joan Thomas.




Portrait of Stella and Percy Leon Thomas, Sr. 1955-59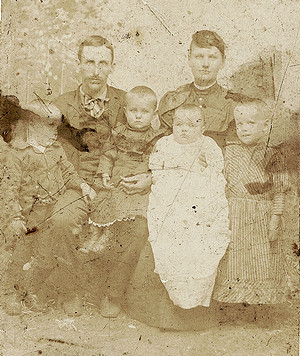 1893-94 The DeSha family: L2R are Lawrence (Lonnie), Joseph Fenigan DeSha holding Stella Anna, Harriet Mariah Beasley DeSha holding Bernice Ella next to Mae Eady DeSha.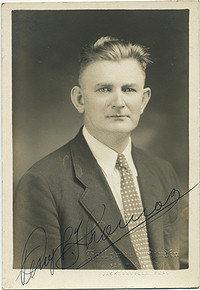 Media Photo of Percy Leon Thomas, Sr. 192?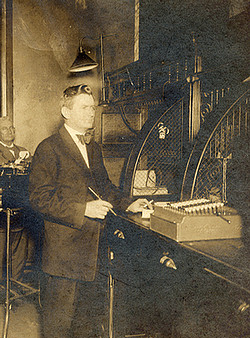 Percy Leon Thomas, Sr. at work in the Federal Building (NE corner of Hogan and Forsyth) as Deputy Tax Collector in about 1917




Stella DeSha Thomas, late 1930s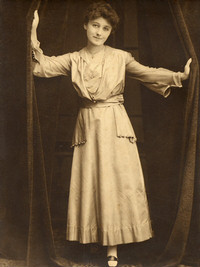 Stella DeSha Thomas my Grandmother, about 1916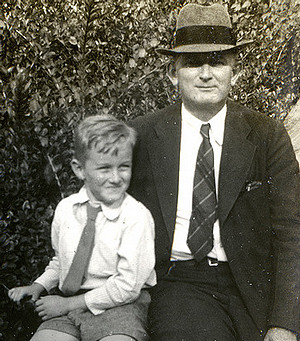 Percy Leon Thomas, Jr. and Sr. in Tallahassee about 1936




Jesse and Mary Ella Murrhee Thomas, parents of Percy Leon and Jessie Thomas are buried in the Old Beulah Cemetery on Camp Blanding property where soldiers are trained for battle. Little rest for the weary there.




L2R: Joan Thomas, Barbara Thomas riding Hog, Cousin Hazel Donegan (whose Grandmother Florida Beasley Geiger and Harriet Mariah Beasley DeSha were sisters), and Grandpa DeSha on the farm south of Waldo about 1923. Several Jack & Judy stories were set on this farm which I have since visited and agree with my Mom that it is very special.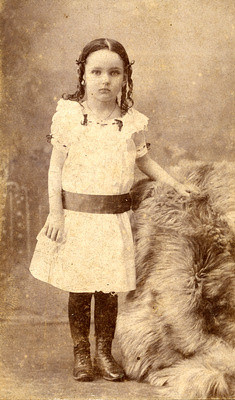 Jessie "Pet" Thomas at 10, 1909




Percy Leon Thomas, Jr. about 1931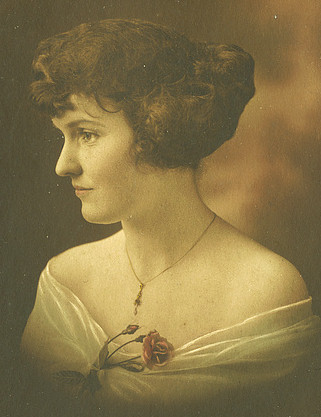 Jessie Thomas (Morgan) born 1899, as a young woman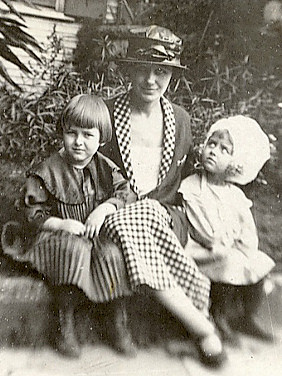 Joan, Stella and Barbara Thomas about 1923



Joan and Barbara Thomas standing on top of a big sewer pipe on 6th Street with their father Percy Leon Thomas, Sr. in the back.