Percy Leon Thomas, Sr. dressed for a meeting of the Improved Order of Redmen stands in the front yeard at 2117 DancyT

Stella DeSha Thomas, in front of 2117 DancyT

The Thomas children at DancyT. Back left, Joan Thomas. Back right, Barbara Thomas. Front, Percy Thomas Jr. About 1935.

Jessie Thomas Morgan (P.L.Thomas's younger sister) and Joan Thomas on Main Street near the W.H. Newell Bakery.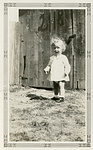 Percy Leon Thomas, Jr. in the back yard or DancyT about 1930.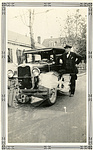 Percy Leon Thomas, Sr. and children superimposed. Thomas car on 9th Street south end of DancyT. 192?