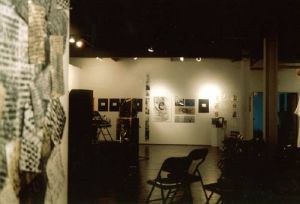 A look in at the Language show from the entrance of the A Space main gallery, October 21, 1994. Blaine Speigel's wall of text display is front left and the learn'yeats & co Big e can be seen in the middle back.

All of the work in tLs was language-based, meaning that the creative use of language was the primary medium, regardless of other media, venues, and/or meta-languages used by the artists in producing/describing their work.

Artists in exhibition were: Carlyle Baker, John Barlow, bill bissett, Christian Bok, Daniel f. Bradley, Chucksteak Enterprises, Judy Copithorne, jw curry, Owen Davis, Paul Dutton, Michael Holmes, Bill Kennedy, learn/yeats & co, Joy Learn, Peggy Lefler, Rod Lohin, Steve McCaffery, Sheila Murphy, Brian Nash, bpNichol, Nicholas Power, Peter Reade, John Riddell, Grant Schelling, Blaine Speigel, W. Mark Sutherland, Yves Troendle, RichardTruhlar, Darren Wershler-Henry etc.



Artists participating in the evening performance events/readings: Sheila Murphy, Steve McCaffery, Karen Mac Cormack, Lise Downe, John Barlow, Darren Wershler-Henry and learn/yeats & co, bill bissett, Yves Troendle, Rod Lohin, Christian Bok, Bill Kennedy and Adeena Karasick.


The Language Show
[1994]

The first Language show was produced by Cabaret Vert Magazine, in collaboration with Gesture Press, and A Space Gallery. It was a weekend festival of contemporary, alternative and experimental Language Art in multi-media exhibition, installation, demonstration and performance works, October 21-October 23, 1994 at the A Space Gallery in downtown Toronto.

In addition to the exhibition, there were language art performance events and readings on Saturday and Sunday evenings. (see left column for participants), and large video screen project works by W. Mark Sutherland, as well as an ongoing video screening of selections from Brian Nash's documentary, "bp (pushing the boundaries)".

Opening night entertainment was provided by poet/musician Peter McPhee and his Uneven Rhythm, a performance work by Joy Learn and Richard Preston, and The Wierd Library of Art in concert.

Gesture Press hosted its on site book launch for Pure Mental Health (poems by Sheila Murphy and photographs by Blaine Speigel) on Saturday afternoon and a Symposium on Alternative Writ Process was held early Sunday afternoon. Symposium participants were Steve McCaffery, Karen Mac Cormack, Yves Troendle, Rod Lohin, and Christian Bok; Beth Learn was moderator.

Throughout the weekend, Nicky Drumbolis of Letters Bookshop exhibited work from his collection -- work produced by artist-run press and magazines in the Toronto area over the past 30 years; Dave Owen conducted a walking tour of PJ Cobb grafeti sites in the Queen Street West/Bathurst area and books by participating artists were available for sale in the entrance way of the gallery. There were many appreciated volunteers without whom the Language show would not have happened. Thanks you to all.

And it all began one day in January 1994 when Cabaret Vert Magazine decided to do a second reading in the fall of that year to celebrate the 20th anniversary of learn/yeats & co.

Beth Learn, Editor of CVM and Nicholas Power of Gesture Press, Gesture Press both worked at University of Toronto, would run into each other on campus and got to talking about some sort of collaboration for the fall. As it happened 1994 was also the 10th anniversary of Gesture Press which was publishing Pure Mental Breath, a book of poems by Sheila Murphy with photographs by Blaine Speigel, that fall.

Learn, a member of A Space Gallery, applied for the use of the gallery space and then began collecting the artists and work.
...more to come